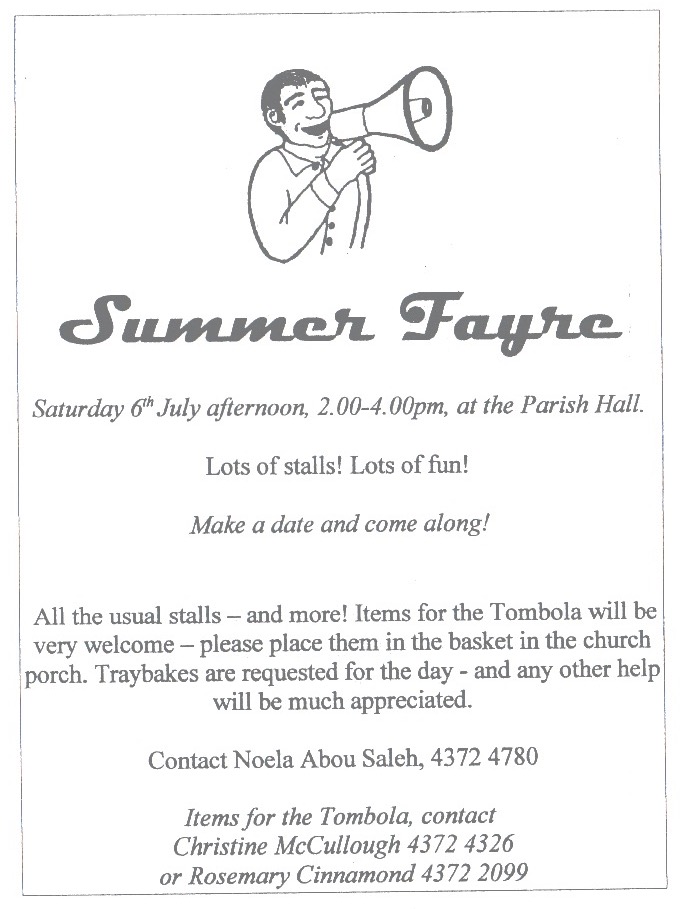 6 July 2.00pm to 4.00pm
at the Parish Hall
SAVE THE DATE!!
Cash for Clothes
Collection date Saturday 29th June 2-4pm
Doing a Spring clean of your wardrobe? Have you unwanted wearable items such as clothes, Shoes, Belts etc?
We are asking Parishioners and their friends to "Bag up" their unwanted items and drop them off at the Church Hall on Saturday 29th June between 2-4pm and these items will be taken to "Cash for Clothes".
Clothes must be clean and show no signs of damage or stains.
Money raised from this event will be put into Church Funds.
CHARITY LUNCH
TUESDAY
14 MAY 2019
12.00 Noon - 2.00pm
ST JOHN'S PARISH HALL
(behind St John's Church)
THE ROCK, NEWCASTLE
ALL PROCEEDS TO CHRISTIAN AID
Parish Health & Safety Notice
Parishioners are informed that matters relating to Health & Safety should be referred to the rector in the first instance. Parishioners are advised not to undertake any maintenance work on parish premises, however minimal or routine, without prior approval.
May 2019
St John's Craft and Chat Group
The group received a 'thank you' letter following a donation of knitted 'Trauma Teddies' with the following message:
"It was with great pleasure that we received a troop of new recruits in station from yourselves to place in our two fire appliances. We can now report to you that having completed all the necessary background checks and initial training that all the teddies passed with honours and have been placed on standby.
"As you are aware 'Trauma Teddies' are only called upon in the most difficult of circumstances by the most vulnerable of people but we are confident that the comfort that they will bring will carry a small light in the darkest of hours through the kindness of your donation.
"From all the staff at Newcastle Fire and Rescue Station."
May 2019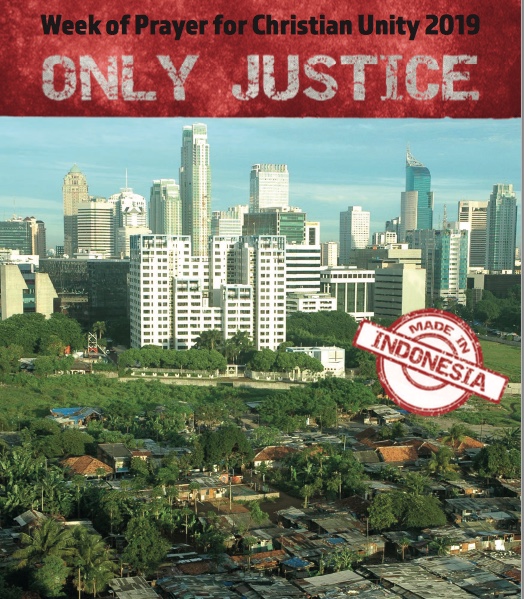 Week of Prayer for Christian Unity
Join us on Thursday 24th January at 7.30pm in St John's to mark the 2019 week of Prayer for Christian Unity. Everyone is very welcome. Refreshments will be served afterwards in the Parish Millennium Room.
Financial Matters
At this time of year, we circulate a donation envelope for Bishops' Appeal for World Development. It is right that we give special thought at this time of the year to supporting charitable work with people in need around the world. Your Bishops' Appeal envelope can be returned on any Sunday in December or to the churchwardens or by post to our honorary treasurer, Mr John Williamson, at 31D Dundrum Road, Newcastle BT33 0BG.
The financing of the Spire renovation is of course in hand, and there was a very generous and swift response from many parishioners towards the costs, together with envisaged funding from the Heritage Lottery Fund. Not least in order to protect the structure, it is intended that the work will commence once the more extreme winter weather is past and when more favourable outdoor conditions arise. However, the state of our general funds is a different story. Because of their vulnerable state as we approach the end of 2018, the Select Vestry wishes to appeal to parishioners for assistance in that regard.
December 2018
St John's Saturday Indoor Table Sales
Sellable Items required. Please contact 028 4372 4786 for arrangements for collection or drop off in hall on day off Sale.
Volunteers also required for setting up of stalls on a Friday afternoon or selling on the day, and Tea /Coffee servers.
If you wish to volunteer please contact Wendy at the above telephone number.

December 2018
SELECT VESTRY'S END OF YEAR APPEAL 2018
Whilst our focus this year has been directed towards the Spire Appeal, St John's parish is projected to be £4,000 in deficit in its general funds on 31st December 2018. This will mean drawing from our relatively limited reserves of £20,000.
However, in order to be properly solvent, the Select Vestry is required by the Charity Commission of Northern Ireland to have appropriate reserves. Withdrawing £4,000 from those reserves at the end of 2018 would leave us in a very vulnerable financial position.
The Select Vestry therefore asks any parishioner who would wish to make an extra donation to our parish in light of these circumstances to do so by placing it in an envelope marked End of Year Appeal 2018 and handing it to the churchwardens, or by posting a donation for the End of Year Appeal to our honorary treasurer, Mr John Williamson, at 31D Dundrum Road, Newcastle BT33 0BG.
The Select Vestry is concerned about the state of our general funds as well as our standing with the Charity Commission and therefore will greatly appreciate any help to offset our projected deficit.
Ian M. Ellis John Williamson
Rector Hon. Treasurer
December 2018
Christingle
This year, for the first time, there will be a Christingle Service in St John's, on Tuesday 11th December at 7.30pm.
What is Christingle? It is a service traditionally associated with Advent, with the theme being Christ, the Light of the World. That is what 'Christingle' means – 'Christ-light'.
It is a very 'different' kind of service, appealing to young and older parishioners alike.
The celebration is named after the Christingles that are lit during the service (we will have them ready in church). Christingles are made from an orange usually decorated with red tape, sweets and a candle.
Each element of a Christingle has a special meaning and helps to tell the Christian story:
The orange represents the world;
The red ribbon (or tape) symbolises the love and blood of Christ;
The sweets and dried fruit represent all of God's creations; and
The lit candle represents Jesus' light in the world.
We hope that you will make a point of coming along to this service, and perhaps will bring some friends with you! It will be open to the whole community and I very much appreciate the help received from Sharon Williamson in making practical arrangements. It will be a new venture and I hope will inspire many people to think more deeply about the important underlying theme, Christ, the light of the world.
The Pantry Foodbank
The Rector writes:
Last month, I attended the Annual General Meeting of the Pantry Foodbank, chaired by Mr Terry Nelson of the Methodist Church. The Pantry Foodbank is a cross-community Christian organization with the mission statement: "With God's help, together, we can make a difference". In his address at this the fourth AGM, Terry said that over those years the Pantry Foodbank had served 3,100 clients and provided some 31,000 meals. Because demand outdoes resources in terms of actual food, some has to be purchased from funds raised throughout the year, between £200 and £220 is spent each week in this way. Terry said there were three reasons for continued demand: first, the current ethos of austerity; second, changes to the benefits system, in particular the move to Universal Credit; and third, the fact that increasingly people are aware of the Pantry Foodbank. Help which is provided is intended as a stopgap for individuals in need and the organizers do not want to be a cause of dependency on the charity. Clients are helped only after having been properly referred. If anyone wishes to help as a volunteer, the number to call is 07517-766006.
December 2018
Voices of Lecale Charity Concert
2 December 2018
Down Art's Centre
A lovely way to bring in the festive season.
The Belfast Phoenix Choir 19 October 2018
UPDATE : St John's Spire & Tower Appeal
The spire and tower at St John's has stood proudly over Newcastle since 1832. However, constant exposure to driving rain, wind and storms has caused significant deterioration to the external and internal structure of the spire and tower. If essential maintenance work is not undertaken now, the church may have to be closed due to health and safety considerations.
The estimated cost of repairs is £169,600. This amount is well beyond what can be raised by parishioners and we have applied for grant funding to enable the essential work to be undertaken. In March, we launched an appeal to raise £50,000 towards the cost of repairs. Select Vestry are delighted to be able to confirm that we have now received cash donations and pledges from parishioners and friends of St John's for just over £50,500. This has been a tremendous success, in such a short period, and the Select Vestry is grateful for the generous response of so many people.
We are now progressing our application for grant funding, through the HLF to enable additional funds to be secured, to enable the essential maintenance work to be completed. It is hoped that confirmation of the HLF grant will be received by late October.
St John's Summer Extravaganza Parish Fete
Saturday 14 July 2pm to 4pm at the Parish Hall just behind St John's church at the Rock in Newcastle
There will be lots of attractions at this year's extravaganza including barbecue, music by Jazz Jam, stalls, children's activities and teas. Admission is £3 with children free of charge. Canon Ian Ellis would extend a warm welcome to locals and visitors alike. "It's always a highlight of the summer season for means I know many others enjoy the get together and the unbeatable fete atmosphere. It's planned to be both indoors and outdoors, weather permitting, so anyone coming along will be able to enjoy the expected good weather to the full. Everyone will be most welcome" said Canon Ellis.